Foot Orthotics Manchester
A foot orthotic is a device that goes inside a shoe and helps to reduce or prevent pain for the wearer. They can be made for many conditions from muscular pain, joint pain to problems with painful corns. As specialists of the foot, a podiatrist is well placed to prescribe these devices for patients.
There are a number of options available, depending upon what needs to be achieved with the orthotic, the shoes you wear and the activities that you do.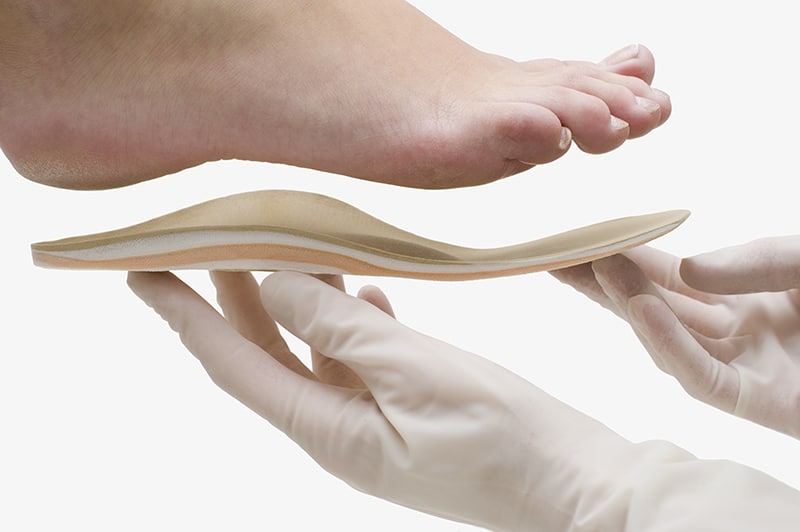 Prefabricated orthotics
These devices have the advantage of being lower cost, but may be a very suitable device for many patients. They come in prefabricated prescriptions, and can be selected by your podiatrist to fit your shoes and your feet.
Custom Made orthotics Manchester
Custom made devices can be large or small, rigid or flexible, they can take on many different features as required by your feet, shoes and circumstances. Our podiatrists are skilled in making these devices, and they will represent their knowledge and experience. The device will be unique to you, and made specifically to your biomechanical profile.
We can make custom made devices on site, and in most cases whilst you wait, to save you a return journey at a later date. We use a variety of materials, depending what we want to achieve with your orthotics.
 All orthotics will feel unusual in your shoes at first, this is normal, and is why we recommend a break in period. This period allows you to adapt to the new demands being placed on your feet and legs with your new devices.